Welcome to Vignette Studios
Established in 1998, Vignette Studios, LLC, is a full service professional planning and landscape architectural consulting firm. We are committed to personal service and uncompromising quality. Vignette Studios has established a reputation for high quality work to meet the needs of a diverse clientele in the surrounding areas of Denver and Northern Colorado.
We have provided services for numerous development projects involving site plan, landscape design, and land use feasibility studies. Our broad experience and staff skills offer the ability to deal with potentially sensitive issues, such as land use and growth management, impacts on the natural and human environment, community plans and policies, project feasibility analyses, alternative design and analyses and public participation.
Featured Project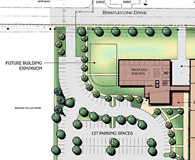 CPP Wind
Fort Collins, Colorado

Corporate Campus Redevelopment